The term business intelligence is the combination of business analytics, data visualization, data mining, and data tools. It assists organizations in making more data-driven decisions and leverages modern business intelligence for better efficiency. Businesses and organizations craft many goals and objectives to sustain for extended periods. To achieve these goals, data processes by the organization play a vital role. Applying BI entitles organizations to use their critical information to perform efficiently.
Over the years, business intelligence platforms have further evolved to include different processes and activities for advancing performance. A few BI processes businesses incorporate under current practices include data mining, reporting, performance metrics, descriptive analytics, statistical analysis, data visualization, data preparation, and so on. In addition, BI instills business analytics and data analytics within its terminology. Currently, data-driven organizations apply BI concepts to advance their operations and stand out from their competitors.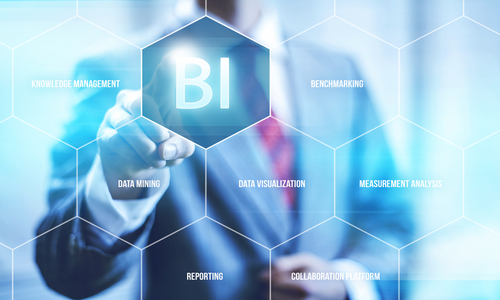 How is modern Business Intelligence different from the age-old definition?
The traditional business intelligence tools were dependent on the historic top-down approach. In the initial days, BI was handled merely by IT, wherein the analytics was used to generate static reports. Under the current practices BI allows IT to access data at multiple levels for customizing dashboards and creating reports. In addition, BI assists organizations in visualizing reports and answer a wide range of questions.
Often companies might process misleading data, which can damage the organization's reputation. This further makes it difficult for organizations to visualize data and unintended biases effectively. Applying modern business intelligence allows organizations to avoid such pitfalls and improve efficiency. Additionally, companies are required to assess various features of BI and check its feasibility.
How does Business Intelligence benefit?
Besides the software aspect, business intelligence can be used as a competitive advantage by organizations across any sector. Let us check out how.
Availability of clear data
Businesses gather abundant data on a daily basis from various sources. Applying business intelligence allows organizations to make sense of the data and generate reports. Such reports can be further utilized to make effective decisions.
Increased efficiency
Business intelligence uses a wide range of tools to ensure organizations can swiftly complete their analytical processes. This further enables them to enhance their efficiency and be more productive at managing their data.
Better customer experience
Organizations implementing business intelligence within their internal structure process their data accurately. This allows them to provide better offers to their customers and gain an advantage over their competitors.
Improved satisfaction
Without advanced technology, an organization's traditional approach follows time-consuming and repetitive processes. Incorporating business intelligence ensures that processes can be automated with just a click, thereby increasing employee satisfaction levels.
Enhanced visibility
BI uses modern software and tools to assist organizations in visualizing their data. In addition, this helps in finding any areas that require attention. BI can be further used to focus on such areas with clear visibility of what has to be done and by whom.
Streamlines processes
BI can be used to remove complexities within a process. Using various analytical models, BI helps automate business operations processes. As a result, organizations can increase their productivity levels.
The other aspects of business intelligence include improved returns on investments through the appropriate allocation of resources. Trends in customer behavior can be unraveled with better insights into their preferences through BI solutions. Additionally, organizations can even monitor their business operations and make improvements on a continuous basis. For instance, retailers can optimally incur costs on their processes using benchmarks and performance comparison methods.  
What are the best practices of Business Intelligence?
Companies that implement BI gain assistance to understand market trends, know their customers, and drive improvement processes. The right set of BI tools can be used to comprehend business information and quickly identify patterns to draw solutions. Additionally, decision-making processes can be improved through the following procedures.
Connecting various data systems and data sets, including spreadsheets
Offering deep analysis to uncover hidden relationships and data patterns
Visualizing data reports in the form of maps, charts, and graphs
Compare data under different scenarios
Enabling users to investigate different sets of data through various methodologies
Additionally, BI can also be incorporated alongside artificial intelligence and machine learning for automating complex activities. This further enhances the capabilities of the organization to analyze its data and gain deeper insights. Moreover, businesses operating across the globe get to map their data geographically and utilize the information for making appropriate decisions.
To Sum Up
Business Intelligence Solutions such as data analysis, visual analytics, advanced analytics, OLAP, data warehousing, and reporting automation enable organizations to improve their operations significantly. BI Consultants assist organizations in discovering the business processes to which BI can be applied. After that, based on the requirements of the organization and feasibility, companies can secure Business Intelligence Consultancy Services and reap its benefits.